12V 45M High Lift Solar Water Pump for Irrigation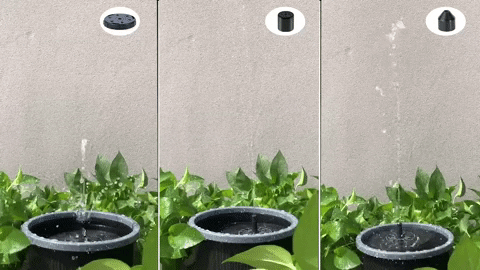 Be the envy of the whole neighborhood with the solar pond pump. This device is perfect to make your pool or pond the most attractive and stylish.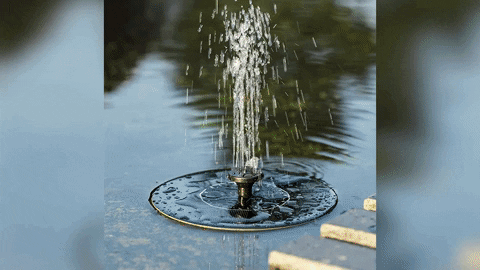 The solar pond pump will give you a nice fountain without spending a lot of money or damaging the environment.
Features:
Suitable for birdbaths, fish tanks, small ponds, landscaping, pools.

Bring different heads.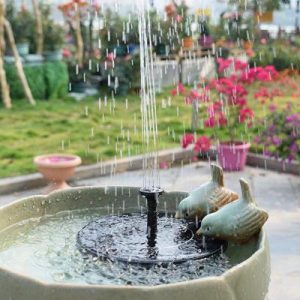 Solar panel: It is a very competent solar panel. It is completely powered by solar energy. No battery or electricity is needed, and it works automatically within 3 seconds in full sunlight. Please put it in full sun to work best, up to 30-55 cm spray size, no additional cost, easy to move to different places to use.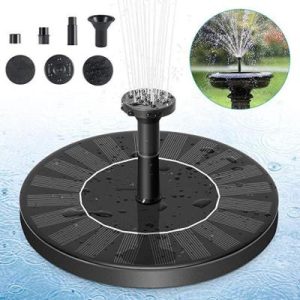 Suitable for sprayers of different water styles: different types of nozzle heads are attached to the pump itself. It helps to change the height of water in different water models. The brighter the sunlight it receives, the better the effect. Make sure to put enough water in the fountain so that the pump is completely underwater.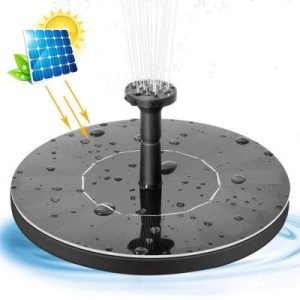 Specifications:
Solar Panel Power Rated Voltage: 7.4V

Solar Panel Rated Power: 1.4W

Brushless Pump Input: DC 4.5-10V

Maximum Quantity of Flow: 47.55 gallons/H(180 L / H)

Maximum Spraying Height: 55cm(21.65 inch), Regular: 10~15 inch

Water spray height: 30-55cm

Delay: ≤3s

Minimum Water Depth:  the deepth of the water in the pond is more than 2inch

Spray combination: 4 kinds of spraying style

Item dimension: 16×1.5cm (DiameterxThickness)

Diameter: 6.3 inches/16cm

Material: Monocrystalline Silicon, PET Laminated

Working current: 190MA

Waterproof Level: IPX8

Pump Life: > 20000 hours

Pump Noise:<45DB

Occasions: Birds Bath, Fish Tank, Small Pond, Garden Decoration
Package Includes:
1x12V 45M High Lift Solar Water Pump 180W 6000L/H Deep Well Pump Dc Screw Submersible Pump Irrigation Garden Home

Agricultural